Pantone has revealed the colour of the year 2013. And the winner is Emerald, a graceful green-blue hue.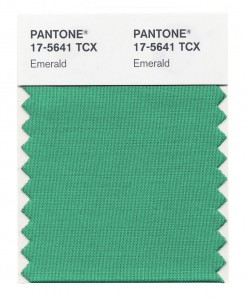 Picture courtesy of Pantone
Well, this choice was quite unexpectedly anticipated as different shades of green were showing up across every fashion retailer since October. And more blueish green shall be awaited considering the jewel-toned colours took off on fashion runways for Spring-Summer 2013. Can bet a dollar, winter collections will be no exception.
Appropriate for every occasion as stated in the official report and, indeed, Emerald is not such overpowering hue as its predecessor Tangerine Tango is. It is versatile and will flatter considerably more people than orange. And that's the best thing I like about Emerald: it looks as good on a background as it does being an accent colour.
So what to pair the Emerald with?
I suggest to wander away from traditional combinations of green, orange or red. Yes, they do work well together, but why not to try something just tiny bit different?
The rich redish-brown hues are perfect substitute for red shades. They are close enough to the classic, yet distinctive to be considered a specialty. For example, Burgundy, Firebrick, Oxblood Red or Rosy Brown are still vigorous and energetic, but more noble than plain Red or Pink.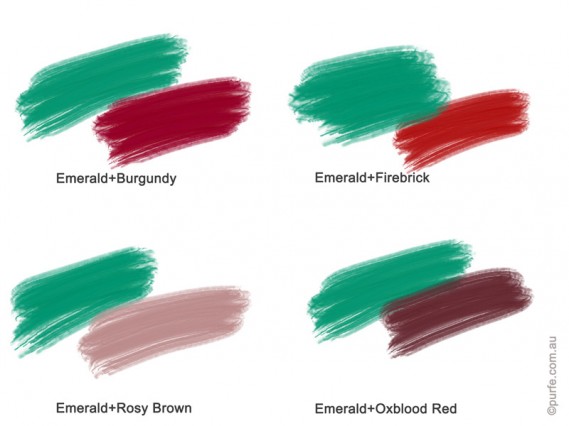 For subtle and airy look the analogous colour scheme will be a good choice (read using shades of green or blue with Emerald). I especially like how colour of 2013 looks next to Blue Gray (first swatch below). But try not to overdo it with greens unless it is St. Patrick's Day.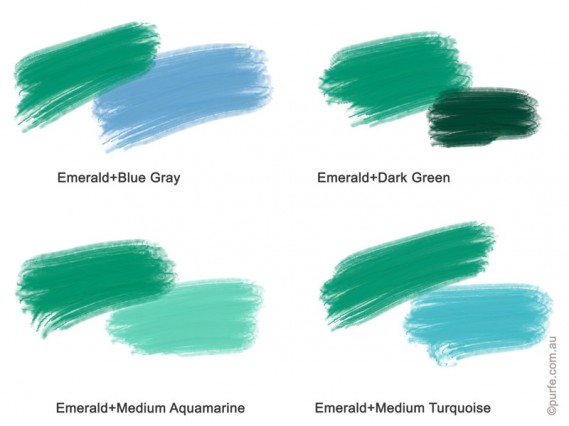 If I had to choose just two pairs, my personal favourites will be emerald with grey and nude. Imagine a jewel-green knee-length dress teamed with nude patent leather heels and half an inch thick belt. Elegant and crisp! *Shall I consider this to be my Christmas party outfit?



And don't forget, we can always use textures to add some extra creativity into the emerald sets (e.g. leather and lace, or jersey and silk). With this trick even classic green + red will get another chance to shine.
One more thing to remember: green makes red hues appear brighter (as it is a complementary colour for red). In practice this means that people with a redish skin undertone might need to opt for green accessories rather than a full green gown (e.g. wearing green bracelets or an emerald scarf around the handbag, point is not to wear green shades close to the face).

---
You may also like to read about:
How to Coordinate Colours in Outfit, Designer's Method