Crop tops are not going to lose their ground in the next season. Runways of ready-to-wear Spring 2015 fashion weeks are the best proof of that.
From New York to Tokyo this ultimately popular piece is presented in great variety of cuts from revealing bralets and miniature bandeaus from Moschino and Diesel Black Gold to modest tops from Carolina Herrera.
Taking into account that crop tops have been in fashion for quite a while it is obvious that something should change about them as decades fly past. More than fabrics and cuts, the style keeps adjusting to the modern trends. Let's have a look how styling of crop tops evolved over past 50 years.
Crop tops, 1970's to 2000's
Leaving aside ethnic crop tops like choli and tribal clothes the western-fashion style we all used to gained their popularity in 1970'-s. Back then in the era of disco, free love and rising feminism they were paired with bell-bottoms, culottes, platform shoes and long centre-parted hair.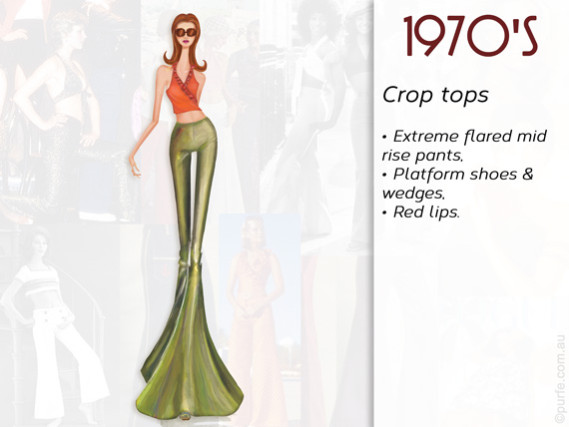 In mid-1980's crop tops, popularized by Madonna and aerobic obsession were styled with acid-wash jeans, oversized jackets with shoulder pads. The other popular styling of crop tops in 80-s was wearing them with frilly miniskirts and leggings. And surely both looks were incomplete without strong makeup, plastic jewellery and crazy hairdo.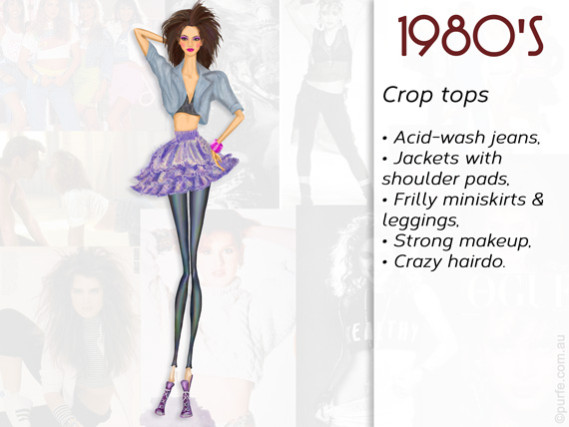 1990's brought us grunge and glamour. Crop tops took form of tight-fitting t-shirts, turtlenecks and long sleeved tops paired with low rise pants and miniskirts. This is when they became hugely popular among wide variety of social groups from teenagers to pregnant women.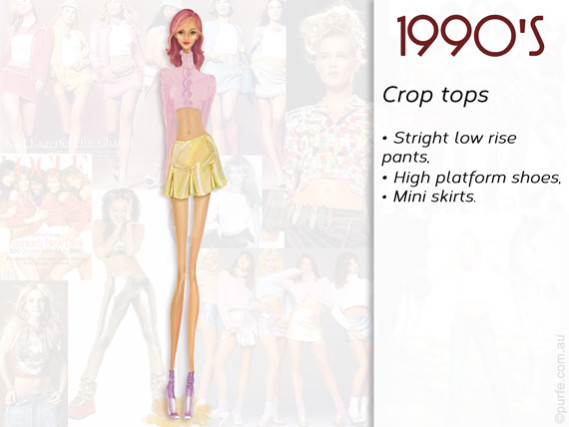 2000-s. Eclecticism of this decade gave rise to new styles and fashion currents.
Crop tops continued to be paired with low-rise bottoms, baring fit midriff, or in harsh street reality often revealing muffing tops of those skipping gym but trend aware fashionistas.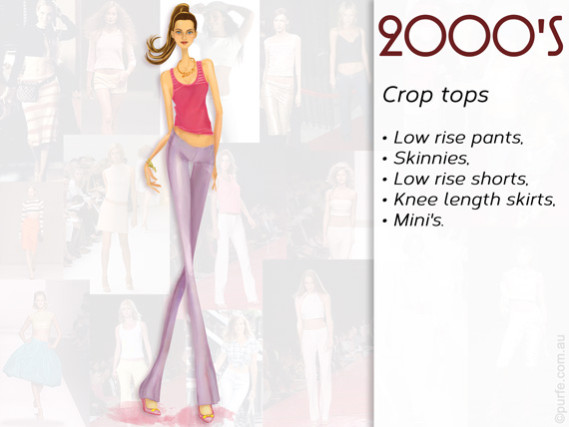 And finally here we are in 2010's! Crop tops are extremely popular and are not going to give up. But they have changed as have changed the world we are living in.
I would not yet undertake a task in identifying cultural features of this decade, but I gladly summarize the way designers are suggesting to wear the crop tops for the upcoming season.
How to wear crop tops
First, let's have a look what cuts and styles of crop tops are in trend and also pay attention to colour and prints.
Colour and cut
Trend 1. Keep it simple and modest.
Plain colours and clean cut – are keywords for styling crop tops.
Look for box shaped tops either with short, ¾ sleeves or sleeveless. Colours: white, black, pastels, rich jewellery or deep earthy tones.
On the picture below flats of catwalk models can give you a hint what to look for. There are also some similar models from selected retailers just to illustrate the idea.
Trend 2.
For those who prefer more skimpy clothing and convinced that crop tops are made for revealing not hiding buzz words are
cut outs
and
bralets
.
By the way, despite of apparent simplisity bralets possess more intricate cut than crop tops. Darts and reliefs here are used far beyond utilitarian reasons and make statement on their own. It is fascinating how intricate the cut could became with 3D modelling and advanced manufacturing technologies.
Trend 3.
In between of extremes of two said trends lies more subtle approach – transparency. Sheer fabrics and laces neither hide nor reveal giving full play to the sartorial manoeuvres.
Well, we have sorted out what kind of crop tops are in trend now and finally came to the main question – How to wear them in the upcoming season?
Though ready-to-wear catwalks had shown crop tops with quite variety of bottoms, skirts are far more often the choice rather than, say, shorts or pants.
Skirts with crop tops. What to pay attention for:
Waist line. Natural or high waist line.
Length. Popular lengths are mini, over and under the knee and maxi.
Style. A-line, pencil skirt, flared, pleated. The last two generally teamed with fitted tops to balance proportions.
Pants with crop tops. What to pay attention for:
Waist line. For pants waist line rise is more democratic and varies from low through natural to high waist line.
Length. Length of pants for crop tops depends greatly on cut and silhouette. It could be ankle, 7/8 or full length.
Style. Culottes, tapered, flared, straight.
Here it is the quintessence of the above.
It is all coming together now, isn't it? Surprising or not, but there a logic in what retalers are stocking up for the next season and with a little breakdown world of fashion is not that random any more.
For the complete collection of crop tops from Spring 2015 Ready-to-Wear shows check my Pinterest board

---
You may also like to read about:
Basic Principles of an Outfit Layout: Focal Point
Connecting Dots. The Importance of Intermediary in an Outfit