My recent post about relations of peplum and pants has touched an important principle of an outfit layout – the subject of a focal point.
In fashion, like in art, focal point (centre of interest) is where the viewer attention is naturally attracted.
Proficient arrangement of focal points can turn a plain outfit into a good one. It is a sort of visual magic when a scarf thrown over a shoulder resuscitates the entire look. The question is how do you know what trick to use where.
Every garment independently of the outfit has its own centre of interest – it could be a collar, a pocket, a yoke, pleats, gatherings, you name it.
On the image below the shirt catches the eye and it is the focal point of this look. But both skirt and blouse has their own centres of interest – it is a slit and a yoke respectively.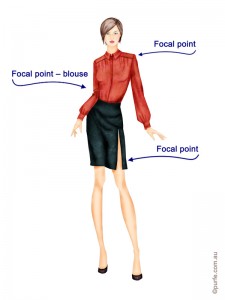 So, in an outfit the focal centre can be:
-a certain garment (blouse, T-shirt, shoes, shorts)
-a detail or accessory (collar, pockets, sleeves, brooch, bangles, and necklaces)
-a set of clothes (hat and scarf, scarf and gloves, shoes and skirt)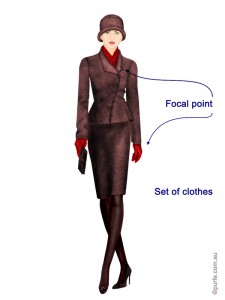 There are 4 basic approaches to emphasise something as focal point:
-by colour
-by texture
-by shape
-by complex trimming or other striking elements.
The number of centres in an outfit can vary from one to as many as desired as long as they are hierarchically coordinated.
Multiple focal points add interesting complexity. The diversity and elegant balance of details get attention of viewers. Most of the times we don't even know why, but we can tell there is something in that look.
At the same time there should be a clear connection between individual parts of the design. They should be sending the same image message.
The cohering elements of an outfit can be present on different levels. Every one of these is a big subject and deserves a topic of its own, so we'll keep it simple here.
-Proportion: consider how to vary placement of garments so they articulate strong message and the outfit has its centre of interest. The size of focal point must complement the proportion of the garment (e.g. you might not be the only one who thinks that a big bow on slim evening dress looks ridiculous).
-Colour scheme: coherence on this level works best when one accent colour dominates the look and the others work to support and add interest to an outfit. Have another look on that red blouse above. That's it.
-Shape: sophisticated and irregular shapes cause strong sensory responses so they must be balanced within an outfit to avoid undesirable effect.A decorative blouse with plan paints works well.
-Texture: textures influence our mood. We make assumption according to certain textures about age, personality, lifestyle, degree of sophistication. Textures are also perceived according to hierarchy. Smooth and glossy fabrics are catching attention first.
-Pattern and decoration: some of them are active and dominant while others are not so strong.
Let's have a look on the example. Below, a light patterned shirt is teamed with a plain skirt in matching colour. This outfit is well-adjusted on the levels of colour, pattern and texture. Here all the attracting attributes of each level belong to the shirt and that makes the look balanced. It might be, however, lacking a certain degree of sophistication, but that's easily corrected by adding accessories.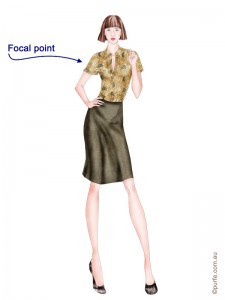 Getting a balanced look is not an easy task as it may seem. But as most of things, you get it with a practice. A good rule of thumb here is: if you are uncertain about something just make it simpler. The safest way to mix clothes in an outfit is to start basic, use one focal point, or one accent.
---
You may also like to read about:
Connecting Dots. The Importance of Intermediary in an Outfit
Cherry on the Top or Contrast Principle