Australians love to shop and market responds accordingly bursting with great variety of brands and labels to satisfy every demand.
As I have mentioned before many fashion brands are part of a bigger groups and holdings. With generous investments and high-class management often provided by big companies it is easier for small brands to survive market competition and improve overall performance.
Australia is no exception from this rule. If we have a closer look on fashion market we will notice that numerous brands are operated by a handful of companies. 34 of the most popular Australian fashion brands are owned or controlled by only 8 companies.
The question who owns whom is quite popular and the answer to it costs a lot[1].
Want to know who owns Millers fashion or Autograph brand? Have a look on the table below and you will find that these brands along with city chic, crossroads, Katies and iconic Australian brand Rivers belong to the largest retailer of women's fashion in Australia – Specialty Fashion Group.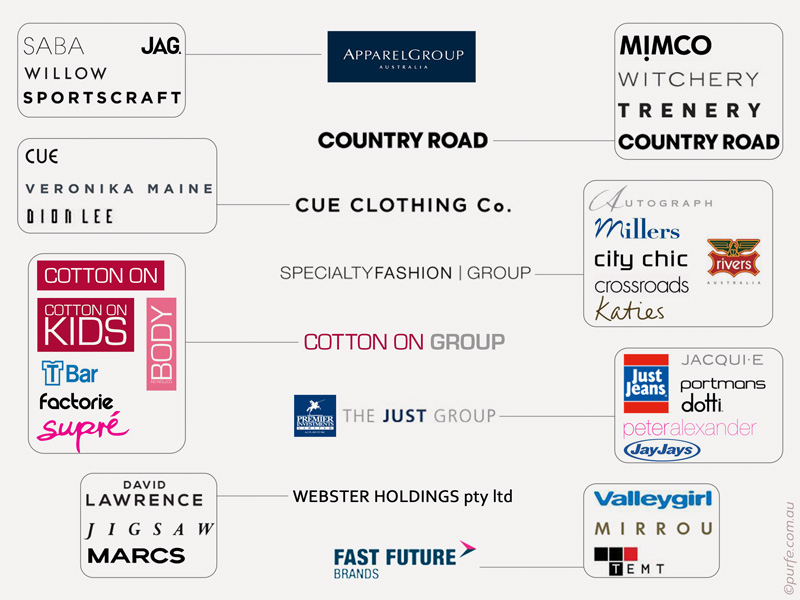 Other popular fast-fashion clothing retail chain Cotton On operates Cotton On Body, Cotton On Kids, Rubi Shoes, T-bar and Factorie and has Supre brand as its subsidiary.
Such middle market clothing and accessories brands as Mimco, Trenery and Witchery are part of Country Road Group.
Websters holdings are managing classic brands Jigsaw, David Lawrence and Marcs.
Few other interesting facts:
Most of large companies in the table above are Australian and privately owned.
Myer, Australian department store chain, owns 65% of famous Australian women's fashion label sass & bide.
Dion Lee label is acquired by The Cue Clothing Co., though it remains independent from Cue and Veronika Maine.
South African company Woolworths Holdings Limited is the ultimate parent entity of Country Road Group and owns 88% of its shares.
---
↑The American Business Information Company Dun and Bradstreet in associations with GAP Books publish annual directories in which provided the relationship between companies worldwide showing who is the ultimate parent company and who are their subsidiaries. Each compendium sells for more than £ 600 pounds and gives excessive information about global market.