For the sake of convenience I'll write about flared, bell-bottom, wide leg and any long pant with hemline wide enough to cover the shoe as Flared. Since they all obey the same length rules.
The flared trousers and jeans are very popular among women of different ages and body types. However, according to my personal observations almost 65% of women wear flared pants which are too short, and 15% wear the ones that are too long. If there was a fine for wearing incorrect length pants the Government would've solved quite a few budget problems in no time!
It worth mentioning that flared pants are very capricious and demanding. They can either make a whole look more slender or transform it totally opposite way.
The secret to get the first and avoid the second is to hem the pants correctly. The flared pants of the correct lengths will complement almost every body type.
Wide hem demands long length. They are just designed that way – with lots of fabric not only broadways but lengthwise as well.
The hem should almost touch the floor. It's ok if they skim the ground. But for practical reason they can be just 0.3-0.5 cm off so they actually don't touch the ground. Red carpet wearers can certainly make it into exact lengths with the help of their designers.
Right length for wide leg pants
Ideally they should hide the shoe entirely. This does not mean that your stylish shoes will be out of sight. They will poke out when you're walking or sitting down creating an intrigue for those trying to figure out what shoes you are actually wearing.
If for whatever you don't feel comfortable with this arrangement, you might as well consider some other styles to wear. "Wear it right, or don't wear it at all" saying has its place for this type of clothing.
Flared pants with flats
Full length flared pants looks great with high to medium heels. Yet, hemmed for flats or low heels they get creased breaks in the front. This could be fine with denim and rough fabrics, but on most dress and suit types it does look a bit awkward.
Thus, you may want to hem them at slant: longer at the back and sides and shorter at the instep. Such edge will produce a clean break in the front without compromising the length. At the same time this is more laborious job that takes time and that not every tailor would agree to do. It might also cost more than regular hemming as well, but the benefits you'll get out of correctly hemmed flared pants are definitely worth it.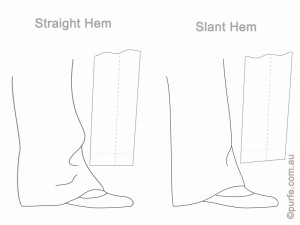 Straight vs slanted hem
A point to be mentioned as well is that skinnies are not very captious of heels. The flared pants, on other hand, certainly are. And as long line created by flared pants is immeasurably complementing to almost every body type it is worth to scrutinize every cm of pants length and heel highs to get most of them. That's true even if this involves extra spending on tailoring or getting a second pair to be hemmed at different length.

---
You may also like to read about:
Right Pants Length: Skinnies